Let's Party! 5 Tips for "Brewing" Up a Bash
If you love coffee and like to party, why not combine the two into the ultimate coffee "brewhaha." After all, what's not to love? There will be coffee (lots of it!), food, friends, family, party favors, special décor, and fun brewing everywhere. You might be surprised by how many coffee parties are happening all around you. Do a quick search online and you'll find invitations for coffee-themed engagement parties, bridal and baby showers, birthday parties, and even weddings.  We kind of like the idea and thought we'd offer up a few fun tips:
1. Don't reinvent the wheel. If you're familiar with wine tastings, you're already well on your way. Just swap out the wine for coffee (or have a bit of both!) and you're halfway there. Replace wine glasses with coffee mugs. You might even want to ask your guests to bring along one of their own and have a contest for the most colorful, coffee stained, sarcastic, unique…you get the idea. Prizes? Coffee, of course. One-pound bags of flavored coffees are always a hit.
2. Feature flavors. Flavored coffees are delicious, fun, and perfect for a party. We recommend selecting between 5-10 flavors, depending on the size of your crowd. Pick one or two of your favorites and then branch out and select a few that you've never tried before. If you really want to impress your guests, brew up two or three of your selections multiple ways. There's Automatic Drip, Single Serve, French Press, Aeropress, Espresso, Pour Over, and the list goes on and on. It will be the ultimate coffee show and tell and your guests will love it. Be sure to have pads of paper and pencils available so that your tasters can jot down notes about each of the coffees they taste. Some party hosts like to create a checklist of each of the coffees they're serving so that guests can keep track of their preferences, as well as remember which ones they might want to stock up on later.
3. Get coffee creative. Have fun and think all things coffee as you choose your invitations and décor. Here are a few invitation ideas that we found:
• Here's one that's homemade and designed for a coffee-themed bridal shower (courtesy of The Oyster's Pearl on Etsy):
Source: The Oyster's Pearl, Etsy
• Here's another fun one from Parchmentpath, also on Etsy. This one can be ordered or printed at home: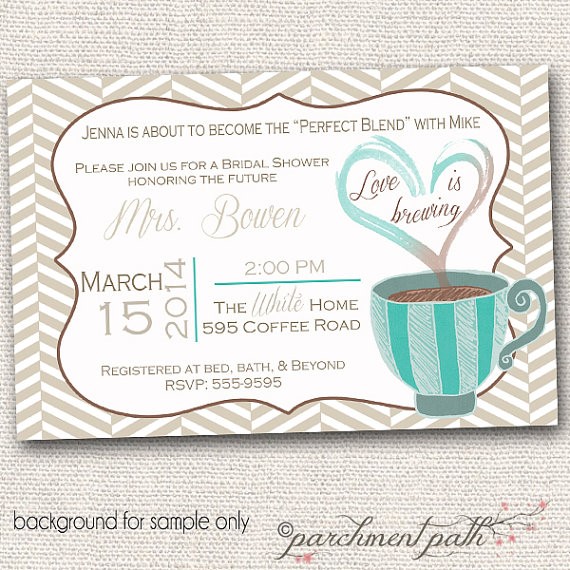 Source: Parchmentpath, Etsy
Moving on to décor, the possibilities are endless. There's plenty out there to perk up any home or venue.
• Check out this easy-to-make centerpiece: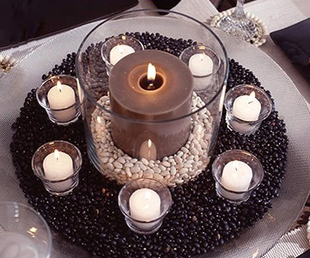 It was originally presented by
Better Homes and Gardens
as an idea for a Thanksgiving table centerpiece, but with a few minor adjustments, can rock any coffee klatch. Simply replace the dried beans with two different color coffee beans. You might want to use a caramel or vanilla scented center candle too. The aroma alone will have your guests mesmerized.
• Of course, every party needs flowers. Why not keep your costs in check by making your own Coffee Filter Flowers? These are beautiful and so much fun!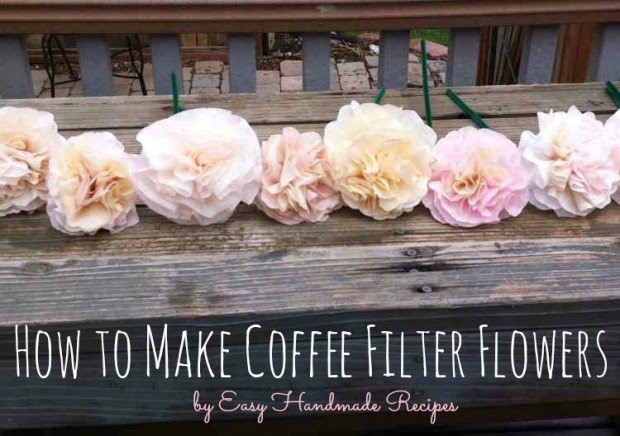 Source: u-createcrafts.com
4. Compliment your coffee with food. While you can go in almost any direction with your food, we recommend a light dessert or brunch approach, so try and time your party for mid-afternoon or after-dinner dessert time. Here's one sweet and one savory sweet for you to try:
• Overnight Buttery Streusel Coffee Cake – Of course, no coffee party is complete without coffee cake. This recipe comes from thekitchn.com and is a winner at any time of day. It's made in two steps, though, so you'll need to allow a two-day period for this one. We promise it will be worth the wait. By the way, our Coffee Cake flavored coffee would go nicely with this yummy treat. Check it out here.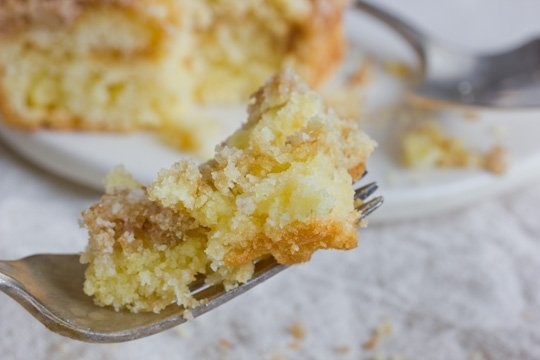 Source: thekitchn.com
• Crispy Brown Sugar Glazed-Bacon – The whole world seems to be hooked on bacon these days – and not just for breakfast. The next time you're in your favorite candy store, check the case for chocolate-covered bacon. Chances are good that you'll find it and probably a few other varieties as well. This recipe from thekitchn.com will have your mouth watering. We recommend pairing this one with Grande Kaffe's Cinnabun or Classic Salted Caramel flavored coffees. Get your brown sugar ready for this recipe.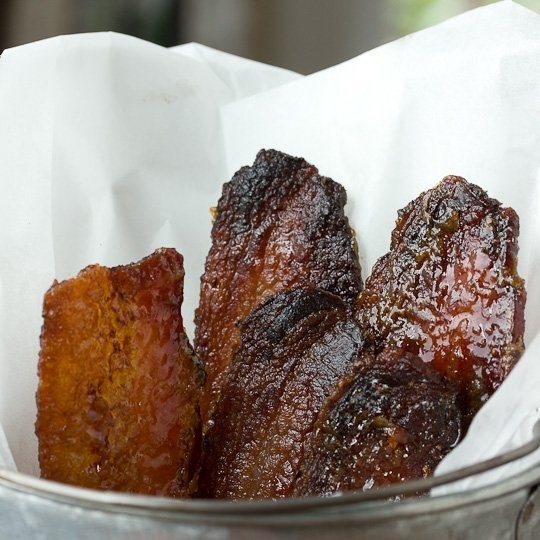 Source: thekitchn.com
5. Don't forget the party favors. Everyone loves a party favor (even when they say they don't). Plus, it's a great way to help your guests remember the best party they ever attended. While you can't go wrong with coffee mugs, here are a few others that you might want to check out:
• Homemade coffee sugar scrub — Delight your guests and set a good example with this unique gift. It combines the goodness of essential orange oil, almond oil, vitamin e oil and brown sugar with the antioxidants found naturally in coffee grounds to keep your skin feeling nourished and beautiful. Package it up in clear jars, make a tag, add a bow and you're done. Take a look:

Source: apumpkinprincess.com
• Burlap Coffee Bag – Burlap bags scream authenticity when it comes to coffee, so why not play on that with your favors. This idea comes from elegantweddinginvites.com (see what we mean about coffee weddings?). It's a beautifully elegant burlap bag that can hold a one-pound bag of coffee, single-serve cups, or loose beans. It can be easily tailored for any party occasion.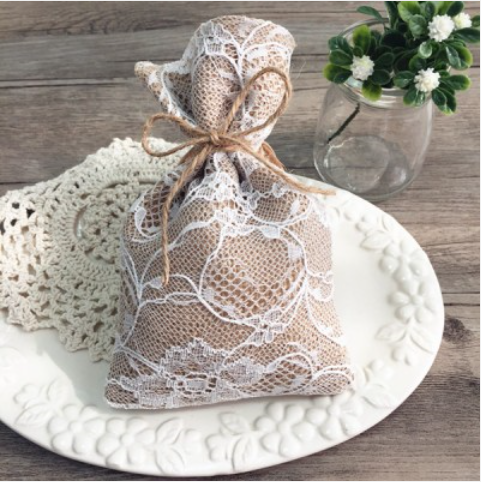 Source: elegantweddinginvites.com
If this sounds like fun, go ahead and do it. Just be sure to send us pictures so we can post them on our Facebook page. As always, we'd love to know how your guests liked the coffee they tried. Jot down their thoughts and send them on. In the meantime, browse the Grande Kaffe collection – and order online. Your coffee will be delivered right to your door. Party on.