The Low Down on Latte Art
These days, there's more to a latte than just cream and coffee.  It also has a pretty face – thanks in part to latte art.  What began in Seattle in the late 1980s and early 1990s has blossomed into something beautiful that baristas and coffee lovers everywhere are crazy about.  In fact, there's even a World Latte Art Championship, where the best of the best baristas battle it out creating intricate designs that are almost too pretty to drink.
Interested in learning how it's done?  If so, here's a quick look at where to start with latte art.
Steaming the milk
Latte art is created by pouring steamed milk into a shot of espresso.  Sounds simple, we know, but it's not.  Before you even get to the design part, there's an art to steaming the milk.  Not only must it be the exact right temperature, but it has to have the right amount of micro-foam, be stretched, spun, and polished before it's poured.  Oh, and there's a hissing sound in there somewhere before the milk turns into what looks like wet paint.  Yum.  Really, we mean it.  It's a special kind of creamy good.  With the help of this step-by-step tutorial you'll be a milk-steaming pro before you know it.
Start with a heart
If this is your first attempt at latte art, designing a heart is a great place to start.  It's the simplest design and looks a lot more complicated than it really is.  Your guests will be impressed.  The only thing you need to know how to do is steam your milk.  Don't worry, you got this!
You'll need the cup that holds your espresso and a jug that contains your milk.  The rest is all in the wrist.  Click here or on the photo to see how it's done.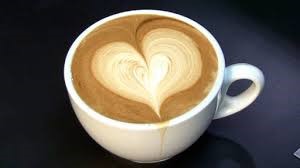 (Source: HowcastFoodDrink)
Ready for the Rosetta
Once you've mastered the heart, it's time to try your hand at the Rosetta, or fern as some call it. This one requires some steady side-to-side pouring action.  Watch it here: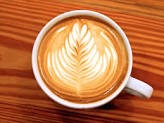 (Video Source:  LatteArtGuide.com)
With those two designs under your belt, you're ready for the big leagues.  If you're looking for a few ideas, here you go.  Simply use your imagination and have at it.  We'd love to see what you create, so take a photo and send it to us on Facebook.  We'd be happy to post your work of latte art.
About Grande Kaffe
If you are craving an authentic gourmet coffee experience that delivers on quality, freshness, and flavor, you're in the right place.  The Grande Kaffe Collection is available in over
20 flavors and is packaged in convenient one-pound bags. A special collection of five flavors is also available in single-serve cups.
Oh, and we deliver – right to your door.  Check out our featured coffee flavors and place your first order today.