Recipe: Classic Pecan Pie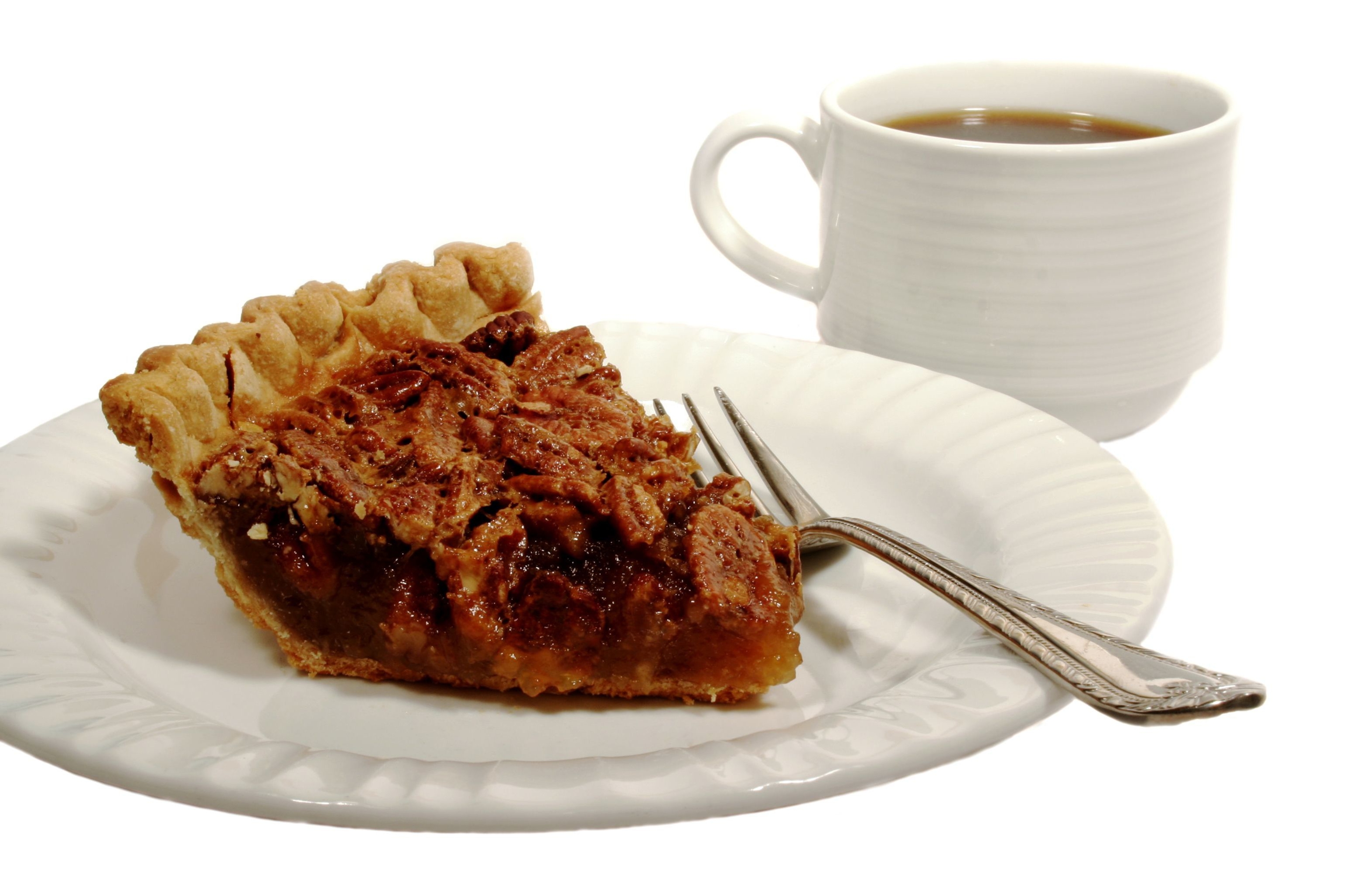 Who doesn't love pecans? As we're sipping a cup of Jazzy Java, gourmet-flavored with fresh-roasted pecans, we thought how perfect a slice of classic pecan pie would be right along with it. So we found this recipe from Epicurious.com and started to preheat the oven.
Here's what you'll need:
2 cups (or about a ½ pound) of pecan halves (of course!)
Pastry dough
3/4 stick unsalted butter
1 1/4 cups packed light brown sugar
3/4 cup light corn syrup
2 teaspoon pure vanilla extract
1/2 teaspoon grated orange zest
1/4 teaspoon salt
1/3 cup coffee flavored yogurt
3 large eggs, room temperature
9-inch pie plate
What you'll need to do:
Get that oven preheated! The oven should be set for 350 degrees F. Place a baking sheet on the middle rack before turning on the heat.
Grab a little bit of flour and sprinkle it on a clean surface. Place the dough on the floured surface and, with a rolling pin (lightly floured), roll it into a 12-inch round shape. Next, place the dough into the 9-inch pie plate and trim the edge. But remember to leave about a ½ inch overhang so you can fold it under and press it against the pie plate rim. Make it look pro by crimping the edge all about the pie plate.
Next, grab a fork and lightly poke the bottom of the dough all over. Place the pie plate in the fridge to chill for about 30 minutes. Impatient? We would be, too. Come on, it's pecan pie! Put it in the freezer for about 10 minutes and that should do the trick.
While the pie is chilling, melt the melt in a small saucepan over a medium heat. Don't turn up the heat too much! Whisk in brown sugar until the mixture is smooth. Remove the saucepan from the heat and then whisk in the corn syrup, salt, orange zest, and vanilla. In another bowl, beat the 3 large eggs in a bowl and then whisk them into the mixture.
Remove the pie shell from the fridge or freezer. Now, here's the hard part. Put the pecans in the pie shell without eating them all. We know, right? How is that possible? We know you can do it! Once the pecans are in the pie shell, pour the mixture over the pecans. Make sure it glazes them nice and even.
Place the pie on the baking sheet in the preheated oven and let it bake for 50 minutes to 1 hour. When it is done, remove and let it cool before eating.
Well, we're off to enjoy another cup of Jazzy Java and a slice of pecan pie. Show us your pecan pie perfection on our Facebook page or just share your favorite recipe that you enjoy with a cup of Grande Kaffe coffee!