Recipe: Double-Chocolate Coffee Bundt Cake with Ganache Glaze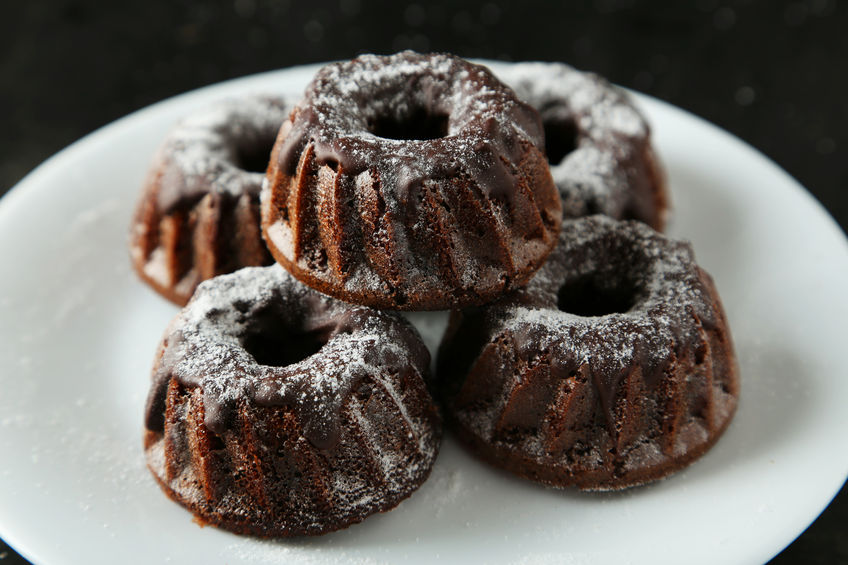 Ready for our party trick? We can bake a light, yet moist Bundt cake! We're sure you're used to a dense and heavy one. Try making this double-chocolate coffee Bundt cake by Food & Wine below!
Ingredients:
Vegetable oil spray
5 ounces bittersweet chocolate, chopped
3/4 cup canola oil
1 cup sugar
1 large egg
2 cups all-purpose flour
1/2 cup Dutch-process cocoa powder
1 tablespoon baking soda
3/4 teaspoon salt
1 cup strong-brewed coffee
1 cup buttermilk
1/3 cup heavy cream
1/2 tablespoon corn syrup
1/2 tablespoon unsalted butter
Instructions:
Before whipping up this master piece, preheat the oven to 350 degrees. Spray your 12-cup Bundt pan with vegetable oil spray.
Next in a small saucepan, melt 2 ounces of the chopped chocolate over low heat. Be sure to stir constantly. Move the chocolate into a medium bowl and let it cool slightly. Then whisk in the oil and sugar until smooth. After mixing in those ingredients, stir in the egg.
In a small bowl, whisk the flour, cocoa powder, baking soda, and salt. Then add half of the dry ingredients to the chocolate mixture as well as a 1/2 cup of the coffee and 1/2 cup of the buttermilk. Whisk until smooth and add in the remaining dry ingredients.
When your mixture is completely smooth, pour the batter into the prepared pan and bake in the lower third of the oven for about 45 minutes. Cool the cake on a rack for 10 minutes and then turn it over to completely cool.
To make the ganache glaze, bring the cream to a boil in a small saucepan. Next combine the remaining 3 ounces of chopped chocolate with the corn syrup and butter. This should be melted in a heatproof bowl. Next pour the hot cream over the chocolate and let stand until melted and whisk until smooth. Let the ganache glaze cool until thick but still pourable.
To finish this delectable recipe, pour the ganache over the cooled cake. Before serving, let the glaze is set for at least 30 minutes.
Well our mouths are watering! For this recipe we brewed up our Dark Chocolate Ecstasy coffee. We have plenty of other flavors to choose from here: https://grandekaffe.com/shop/
When you've created this amazing recipe, show us how it turned out on our Facebook page.