Summertime Coffee-Filter Crafts for Kids, Tweens & Teens
Got kids? Love coffee? If you answered "yes" and "yes" you also have the makings for some great summertime crafts. They are perfect for entertaining kids at camp, birthday parties, or on rainy days. Simply break out the supplies, brew a pot of coffee and have at it.
Here are a few ideas to get you started:
1. Ocean Animal Coffee Filter Sun Catchers: There's no better time to catch some sun than in the summer. No sunblock needed for this one! This creation comes from Katie at A Little Pinch of Perfect on Pinterest. It's a great craft for teaching little ones about animals either before or after a day trip to the zoo or the beach.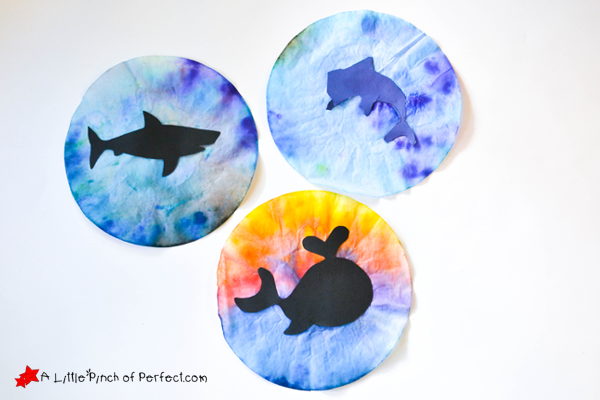 Here's how it's done:
Supplies:
• Ocean Animals Pattern (Available for download at the bottom of this post)
• Water color paints
• Paint brush
• Glue
• Scissors
• Dark blue or black paper
• Coffee filters
Instructions:
1. Have the children paint their coffee filters and set them out to dry. The darker the paint the better because it does tend to lighten as it dries.
2. Print out the animal pattern on dark blue or black paper and have the children cut them out.
3. Glue the animal to the coffee filter and voila!
It's that easy and something your child can enjoy all summer long.
2. Coffee Filter Patriotic Wreath: This patriotic piece comes courtesy of craftingintherain.com. Stephanie Paxman, the mastermind behind this craft, created it for the Fourth of July, but it would be great for Labor Day, Veterans' Day, Memorial Day, and more! While the coffee-filter craft above is great for the wee ones among us, this one is perfect for a tween or teen with a steady hand and creative eye.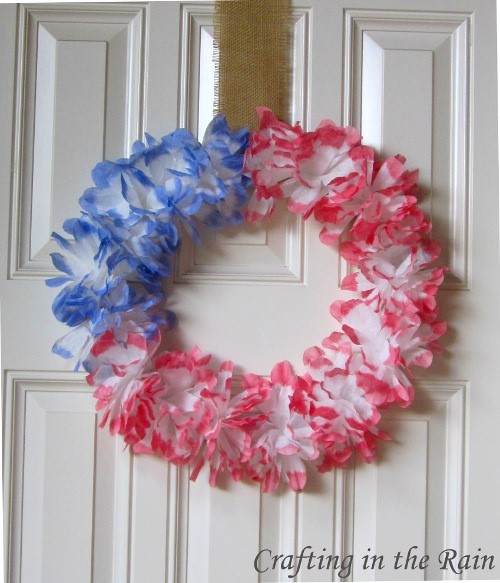 Supplies:
• Paint
• Water
• Coffee filters
• Cardboard
• Glue
• Glue gun
• Burlap
• Binder clip
Instructions:
1. Begin by using red and blue paint to create lovely water colors.
2. Carefully dip the coffee filters into the paint solution (about an inch deep).
3. When dry, cut the edges of the filters into flower shapes.
4. Next comes the cardboard. Cut a circle out of cardboard and paint it white.
5. To assemble, make blossoms by pinching the center of each coffee filter and pulling it down into a "badminton birdie" shape. Then use a glue gun to glue 3 of them together, just at the point.
6. Then glue four blue blossoms down on the top left part of the wreath area and fill in the rest with the red ones.
7. Finally, cut a strip of burlap, attach it to the wreath with a binder clip, and hang it up.
That's what we call pure patriotic perfection! For all the details and additional instructions, click here.
3. Coffee Filter Butterfly: Summer just wouldn't be summer without butterflies! The more the merrier, we say, so here's a craft to keep the butterflies flying all summer long. It you are a teacher, you might want to use this one in the springtime too and pair it with a butterfly hatching project. On the day your real butterflies are released, you can fill your classroom with these.
This idea was created by Amanda Formero for Parenting.com.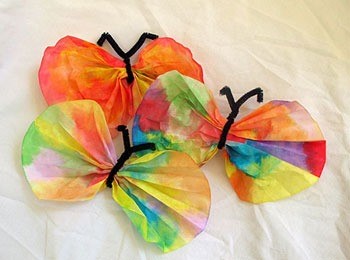 Source: parenting.com
Supplies:
• One half of a black chenille stem
• Paper coffee filters
• Water color paints
• Paint brush
• Water
Instructions:
1. Flatten the coffee filter and place it on a plate or newspaper, the paint and water will soak through. Set aside on paper towels to dry.
2. Fold the chenille stem in half. (Remember, you are only using half of a chenille stem to begin with.)
3. Fold the coffee filter accordion style, in about 1/2″ pleats.
4. Position the pleated coffee filter into the bent end of the chenille stem. Center the filter at the bend.
5. Twist the chenille stem around the filter to secure it in place.
6. Bend the tips of the chenille stems over about 1/4″ to create the antennae.
7. Fan out the butterfly wings.
8. If desired, hang with yarn or fishing line. Let them fly!
These are adorable and definitely worth a bunch of butterfly kisses.
Need coffee for those filters?
Look no further than Grande Kaffé. If an authentic gourmet coffee experience that delivers on quality, freshness and flavor is what you're looking for, we have just the thing – the Grande Kaffé Collection. It has delighted coffee enthusiasts for more than a decade. The Grand Kaffé Collection is available in over 20 flavors and is packaged in convenient one-pound bags. A special collection of five flavors is also available in single-serve cups. Plus, we'll deliver it direct to your door. Check out our featured coffee flavors and place your first order today.